Mont Saint-Michel is leaving, in 710, the name "Mont-Tombe" to take that of "Mont-Saint-Michel-in-peril-de-la-Mer" as a result of the construction of an oratory dedicated to the archangel Michael in 708. This building is controlled by the holy Bishop Aubert of Avranches. Aubert would have received during his sleep, three times the Order of St. Michael to erect on Mont-Tombe oratory.
The sanctuary shall be as prescribed by the angel, a replica of the shrine of Saint Michel Mont Gargan in Italy (5th century). Aubert is tear this pagan worship stone on Mount Tomb and built instead a circular sanctuary of rock formed pieces stacked roughly. In about 708, Aubert sent two monks to seek sanctuary Italian Mont Gargan place of relics: a stone where he left the imprint of his foot and a piece of her veil on the altar he had spent. It was during this mission that the tidal wave would have 709 March engulfed the forest and surrounded Scissy Mount to make an island. Then according to Tradition Mount dating back to the 11th century, the bishop is the church's dedication October 16 709 and installed a chapter of twelve canons. Mont Saint-Michel was born.
The year 966 marks a historic turning point with the foundation of the Benedictine abbey at the request of the Duke of Normandy and the departure of the canons.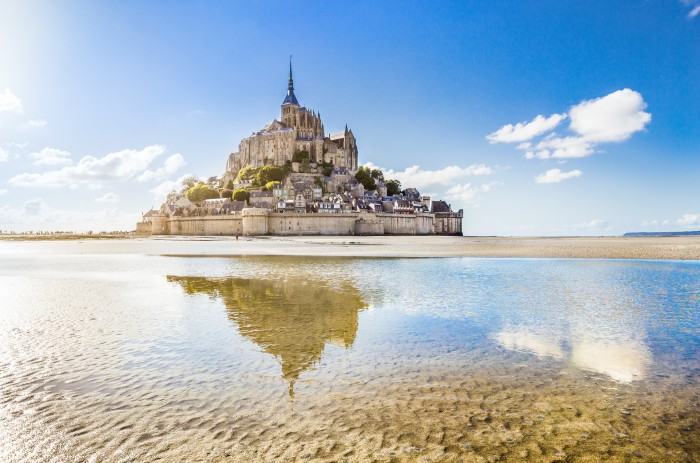 The Benedictine Abbey
These are the Benedictine monks which endows the abbey of the pre-Romanesque double nave church of "Notre-Dame-sous-Terre" and are building from 1060 the nave of the abbey church of which the crossing is established in the top of the rock.
Mont Saint-Michel owes its success to the abbey, which is one of the most important centers of pilgrimage.
A UNESCO World Heritage Site since 1979, the Mont-Saint-Michel and its bay, called "Wonder of the West", receives more than three million visitors a year and is the second most visited tourist site of France.